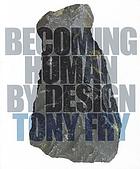 Becoming human by design
Making a case for ontological design as an evolutionary agency, this book posits the relation between the formation of the world of human fabrication and the making of mankind itself as indivisible. It also functions as a provocation to rethink the fate of Homo sapiens, recognising that all species are finite and that the fate of humankind turns on a fundamental Darwinian principle - adapt or die.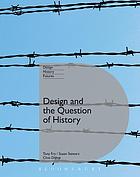 Design and the question of history
Design and the Question of History is not a work of Design History. Rather, it is a mixture of mediation, advocacy and polemic that takes seriously the directive force of design as an historical actor in and upon the world. Understanding design as a shaper of worlds within which the political, ethical and historical character of human being is at stake, this text demands radically transformed notions of both design and history.



Design as future making
Design as Future-Making brings together leading international designers, scholars, and critics to address ways in which design is shaping the future. The contributors share an understanding of design as a practice that, with its focus on innovation and newness, is a natural ally of futurity. Ultimately, the choices made by designers are understood here as choices about the kind of world we want to live in. Design as Future-Making locates design in a space of creative and critical reflection, examining the expanding nature of practice in fields such as biomedicine, sustainability, digital crafting, fashion, architecture, urbanism, and design activism.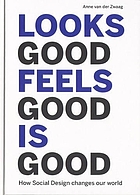 Looks good, feels good, is good : how social design changes our world
Social Design includes all design-related movements that support a sustainable lifestyle and present alternatives to current social and economic systems and solutions. This book explains the concept of Social Design in an interdisciplinary, visual and accessible manner. It serves as a reference work for professionals and students, and as a catalyst for a creative movement and mentality with great potential.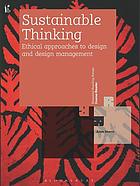 Sustainable thinking : ethical approaches to design and design management
This work explores how values and sustainability can reshape the way design management is practiced and applied. The book discusses how designers can combine innovative creative thinking with analytical problem-solving skills to produce outputs that are business ready and ethically driven.

Sustainist design guide
This handbook is the first book to take sustainability--or "sustainism"--into the realm of social design thinking and practice."


World of matter (exhibition catalogue)
World of Matter is an international project investigating raw materials and the complex ecologies of which they are a part. In light of the acute problems resulting from human-induced transformation of the earth and its systems, it is tempting to strike a dramatic tone. However, the perspective of crisis also calls upon us to reconsider at a fundamental level; and in slow, subtle, and unspectacular ways; how we understand and interact with the world of things. The investigations presented in this book, undertaken in many world regions and post-national spaces, propose a wide range of aesthetic and ethical approaches to the handling of resources, while challenging the capitalistic assumption that the planet's materials are primarily for human consumption. By drawing connections between works that derive from artistic practice, journalism, philosophy, activism, and other realms of research, World of Matter provides a place of commonality for eco-logical imaginaries.
---
Topic Exploration
Design - human factors
Design - social aspects
Sustainability
Sustainable construction
Sustainable design
To find articles, copy/paste the topics listed above into Fleet SEARCH the library's integrated search system.
Related Guide: Art & Design Research Ethics