Critical landscapes: art, space, politics
From Francis Alÿs and Ursula Biemann to Vivan Sundaram, Allora & Calzadilla, and the Center for Urban Pedagogy, some of the most compelling artists today are engaging with the politics of land use, including the growth of the global economy, climate change, sustainability, Occupy movements, and the privatization of public space. Their work pivots around a set of evolving questions: In what ways is land, formed over the course of geological time, also contemporary and formed by the conditions of the present? How might art contribute to the expansion of spatial and environmental justice.? One of the first comprehensive treatments of land use in contemporary art, Critical Landscapes skillfully surveys the stakes and concerns of recent land-based practices, outlining the art historical contexts, methodological strategies, and geopolitical phenomena.



Design like you give a damn: building change from the ground up
With the rise in social demand for recycling programs and sustainable living, this volume documents more than 100 new projects from around the world. It is packed with practical and ingenious design solutions that address the need for basic shelter, housing, education, health care, clean water and renewable energy.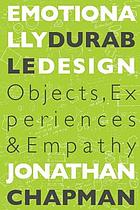 Emotionally durable design: objects, experiences & empathy
A call to arms for professionals, students and academic creatives; proposing the emergence of a new genre of sustainable design that reduces consumption and waste by increasing the durability of relationships established between users and products. The author pioneers a radical design about-face to reduce the impact of modern consumption without

compromising commercial viability or creative edge.
This book takes stock of the diversity of contemporary ecological research and theory - embracing Felix Guattari's broader definition of ecology as at once environmental, social, and existential - and speculates on potential paths forward for design practices. Where are ecological thinking and theory now? What do current trajectories of research suggest for future practice? How can advances in ecological research and modeling, in social theory, and in digital visualization inform, with greater rigor, more robust design thinking and practice?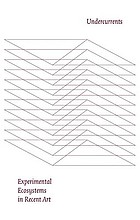 Undercurrents : experimental ecosystems in recent art
(exhibition catalogue)
Undercurrents is an experimental ecosystem in itself, opening up a collective platform for thought, the imagination, dialogue and action; the exhibition is a site to critically engage with the changes taking place in the entangled registers of the world around us. The range of artistic practices and issues presented produce surprising encounters, demonstrating how cohabitation is the source of struggle and creativity, problems and solutions, malice and beauty, and consists of the stage on which we all ultimately play a role.