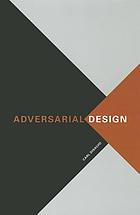 Adversarial design (ebook)
An exploration of the political qualities of technology design, as seen in projects that span art, computer science, and consumer products. Design and agonism -- Revealing hegemony : agonistic information design -- Reconfiguring the remainder : agonistic encounters with social robots -- Devices of articulation : ubiquitous computing and agonistic collectives -- Adversarial design as inquiry and practice.
Agonistics: arenas of creative contest (ebook)
Focuses on a very significant psycho-cultural concept (that of "agonistics" or "contestatory creativity") with ramifications in several areas of the postmodern debate: cultural philosophy, psychologies of race, gender and the body, and narratology.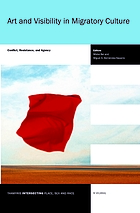 Art and visibility in migratory culture: conflict, resistance, and agency (ebook)
This book explores the idea that art can enact small-scale resistances against the status quo in the social domain. These acts, which we call "little resistances," determine the limited yet potentially powerful political impact of art.

Covert operations (exhibition catalogue)
Investigating the known unknowns' features 13 international artists who have collected and revealed unreported information on subjects ranging from classified military sites and reconnaissance satellites to border and immigration surveillance, terrorist profiling, narcotics and human trafficking, illegal extradition flights and nuclear weapons.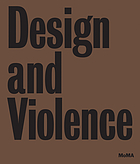 Design and violence
Design has a history of violence, yet professional discourse around design has been dominated by voices that only trumpet its commercial and aesthetic successes. Violence, defined here as the manifestation of the power to alter circumstances against the will of others and to their detriment, has always been ubiquitous, and in recent years technology has introduced dramatic new threats. Design and Violence sheds light on the complex impact of design on the built environment and on everyday life, as well as on the forms of violence in contemporary society.



Ethics and images of pain
Few phenomena are as formative of our experience of the visual world as displays of suffering. But what does it mean to have an ethical experience of disturbing or traumatizing images? What kind of ethical proposition does an image of pain mobilize? How may the spectator learn from and make use of the painful image as a source of ethical reflection? Engaging with a wide range of visual media--from painting, theatre, and sculpture, to photography, film, and video--this interdisciplinary collection of essays by leading and emerging scholars of visual culture offers a reappraisal of the increasingly complex relationship between images of pain and the ethics of viewing.

On Art and War and Terror
Alex Danchev's essays on the theme of art, war and terror, offers a sustained demonstration of the way in which works of art can help us to explore the most difficult ethical and political issues of our time: war, terror, extermination, torture and abuse. It takes seriously the idea of the artist as moral witness to this realm, considering war photography, for example, as a form of humanitarian intervention. War poetry, war films and war diaries are also considered in a broad view of art, and of war.

Tactical response: art in an age of terror
This project takes as its point of departure the crisis of perception that photojournalism fails to adequately take into account the problems of representing atrocity without exacerbating the violence or dehumanizing the subject. ... By selecting three artists: Hans Haacke, Krzysztof Wodiczko, and Alfredo Jaar who have struggled for decades to resolve the disparity between documentation and the production of aesthetics meaning, the author proposes to offer a vantage point from which we as viewers can critically address the representation of suffering and the ethics of bearing witness.
---
Topic Exploration
Art - moral and ethical aspects
Art and social action
Art and war
Arts and morals
Design - political aspects
Design Thinking, Design Theory (series)
Social problems in art
Suffering in art
Terrorism in art
Violence in art
To find articles, copy/paste the topics listed above into Fleet SEARCH the library's integrated search system.