Design in the borderlands
This book makes a significant contribution to advancing post-geographic understandings of physical and virtual boundaries. It brings together the emergent theory of 'border thinking' with innovative thinking on design, and explores the recent discourse on decoloniality and globalism. From a variety of viewpoints, the topics engaged show how design was historically embedded in the structures of colonial imposition, and how it is implicated in more contemporary settings in the extension of 'epistemological colonialism'.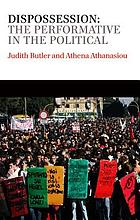 Dispossession : the performative in the political : conversations with Athena Athanasiou
From the uprisings in the Middle East and North Africa to the anti-neoliberal gatherings at Puerta del Sol, Syntagma and Zucchotti Park, an alternative political and affective economy of bodies in public is being formed. Bodies on the street are precarious - exposed to police force, they are also standing for, and opposing, their dispossession. These bodies insist upon their collective standing, organize themselves without and against hierarchy, and refuse to become disposable: they demand regard. This book interrogates the agonistic and open-ended corporeality and conviviality of the crowd as it assembles in cities to protest political and economic dispossession through a performative dispossession of the sovereign subject and its propriety.
Portable borders: performance art and politics on the U.S. frontera since 1984
Particularly in the world of visual art, borders have come to represent a space of performance rather than a geographical boundary, a cultural terrain meant to be negotiated rather than a physical line. Beginning with site-specific conceptual artwork of the 1980s, particularly the performances of the Border Art Workshop/Taller de Arte Fronterizo, Sheren shows how these works reconfigured the border as an active site. Sheren moves on to examine artists such as Guillermo Gómez-Peña, Coco Fusco, and Marcos Ramirez "ERRE." Although Sheren places emphasis on the Chicano movement and its art production, this groundbreaking book suggests possibilities for the expansion of the concept of portability to contemporary art projects beyond the region.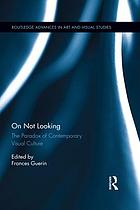 On not looking: the paradox of contemporary visual culture
This collection demonstrates that even though we live in an image-saturated culture, many images do not look at what they claim, viewers often do not look at the images, and in other cases, we are encouraged by the context of exhibition not to look at images. The themes discussed include: politics of institutional exhibition and perception of images; censored, repressed, and banned images; transformations to practices of not looking as a result of new media interventions; images in history and memory; not looking at images of bodies and cultures on the margins; responses to images of trauma; and embodied vision.
---
Topic Exploration
Art - political aspects
Boundaries in art
Social movements in art
To find articles, copy/paste the topics listed above into Fleet SEARCH the library's integrated search system.
Related Guide: Place