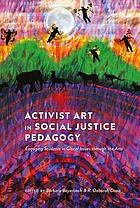 Activist art in social justice pedagogy: engaging students in glocal issues through the arts
This book examines and critiques approaches to using activist art to teach a multicultural curriculum. Examples of activist artists and their strategies illustrate how study of and engagement in this process connect local and global issues that can deepen critical literacy and a commitment to social justice. This book is relevant to those interested in teaching more about artist/activist social movements around the globe; preparing pre-service teachers to teach for social justice; concerned about learning how to engage diverse learners through the arts; and teaching courses related to arts-based multicultural education, critical literacy, and culturally relevant teaching.


Art and social justice education: culture as commons
This book offers inspiration and tools for educators to craft critical, meaningful, and transformative arts education curricula and arts integration projects. The images, descriptive texts, essays, and resources are grounded within a clear social justice framework and linked to ideas about culture as commons. The book is enhanced by a Companion Website featuring artists and artworks, project examples, and dialogue threads for educators.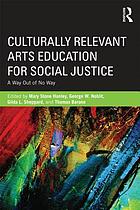 Culturally relevant arts education for social justice: a way out of no way
This volume examines a range of efforts across different forms of art, various educational settings, and diverse contexts, it foregrounds the assets of imagination, creativity, resilience, critique and cultural knowledge, working against prevailing understandings of marginalized groups as having deficits of knowledge, skills, or culture. Emphasizing the arts as a way to make something possible, it explores and illustrates the elements of social justice arts education as "a way out of no way" imposed by dominance and ideology.

Design for a complex world: challenges in practice and education See professional practice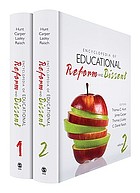 Encyclopedia of educational reform and dissent (ebook)
Educational reform, and to a lesser extent educational dissent, occupy a prominent place in the annals of U.S. education. Whether based on religious, cultural, social, philosophical, or pedagogical grounds, they are ever-present in our educational history. Although some reforms have been presented as a remedy for society's ills, most programs were aimed toward practical transformation of the existing system to ensure that each child will have a better opportunity to succeed in U.S. society.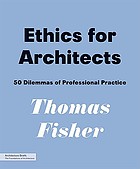 Ethics for architects: 50 dilemmas of professional practice
This book presents fifty case studies representing a broad range of ethical dilemmas facing todays architects, from questions regarding which clients to work for, to the moral imperatives of reclaiming building materials for construction instead of sending them to landfills.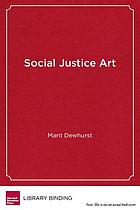 Social justice art: a framework for activist art pedagogy
This book examines the role that art plays in addressing social injustice inside and outside the classroom. The framework, called social justice art, is thoroughly explored and provides teachers with practical strategies for activist arts pedagogy.
---
Topic Exploration
Critical pedagogy
Social justice - study and teaching
To find articles, copy/paste the topics listed above into Fleet SEARCH the library's integrated search system.