Art's emotions : ethics, expression and aesthetic experience (ebook)
Damien Freeman reviews and evaluates three traditional approaches to understanding artistic expression and moves on to develop a new theory of emotion that resolves key questions in aesthetics. In a novel philosophical project, Freeman also establishes the ethical importance of art in nurturing humans and helping them flourish.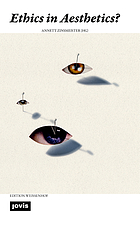 Ethics in aesthetics?
Can aesthetic concepts reflect and provide answers for ethical aspects and issues? Is "more ethics, less aesthetics" applicable, according to the motto of the Venice Biennial for architecture in the year 2000? Or isn't "more aesthetics" in fact just what is required to encourage reflection about ethical responsibilities and dimensions in architecture, art, and design? This publication is a collection of reflections about the ethical and political dimensions of creations, presented from the point of view of art, architecture, design, and curatorial practice.

Encyclopedia of aesthetics, 2nd ed. (online)
The entry on Morality contains the following topics: